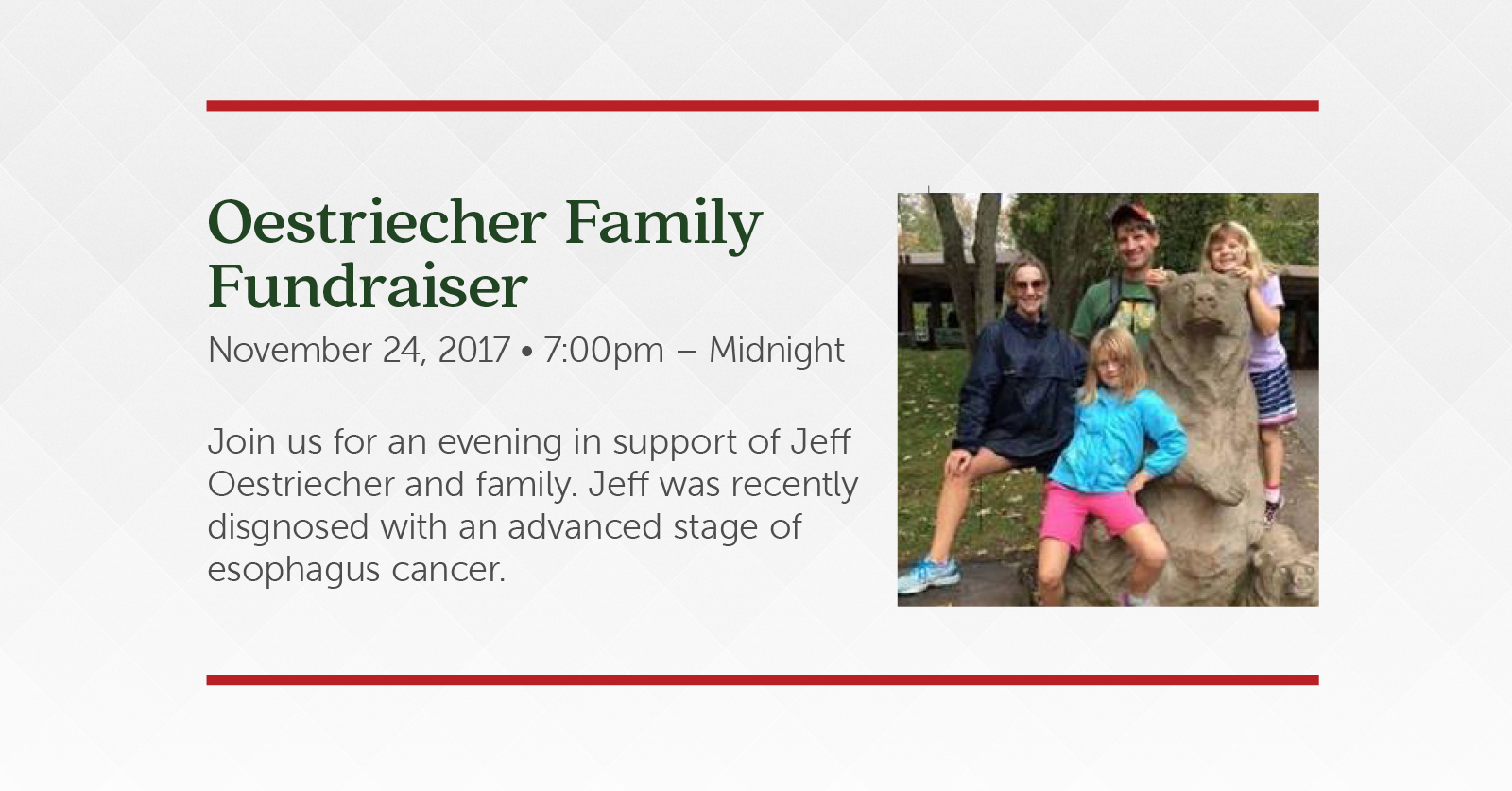 The Oestriecher Family Needs The Community's Support In A Big Way
Friday, November 24 at 7:00 PM – Midnight

The community is being invited to take part in a special fundraiser for the Oestriecher family.
Here is the story.
Jeff and Carey-Ann Oestriecher are the parents of two wonderful daughters, ages eight and six. Jeff has been mainly looking after the family's finances and daughters for the last while after his wife had a serious fall that left her sidelined. That happened five years ago and that accident caused some brain injury, and she suffers from severe pain and also has extreme sensitivity to light. Despite it all, Carey-Ann is still doing some consulting work on a part-time basis to help the family out as well.
While the family has had their share of struggles over the last while, life has just dealt them with another mighty blow, this one very serious. You see, Jeff has just been diagnosed with Advanced Stage Esophageal Cancer.
While Jeff's doctors remain optimistic that he can beat the disease, the sad reality is that he is now sidelined as well.
This is why Jeff and Carey-Ann really need everyone's support as they have a family to look after, and bills to pay.
To help support this family in need, Cory Greenham, Carey-Ann's brother, is organizing a fundraiser at FarAway Greens at 3070 Mainway in Burlington on Friday, November 24, 2017.
The special event will begin at 7:00 PM and tickets are $200 each. The night includes food, beverages and entertainment. There are also different sponsorship opportunities available for this big fundraiser: 10 Tickets (Bronze Package) are $2,000; 15 Tickets (Silver Package) are $3,000; and 25 Tickets (Gold Package) are $5,000.
There will also be a silent auction that evening, and donations in any amount are being accepted to support the cause.
All funds raised for the event will go directly to Jeff and Carey-Ann and their daughters.
Cory is personally funding all of the expenses for the event on November 24th.
Cory has many close friends and colleagues who are stepping up to the plate to help make the fundraiser a true success, including Clinton Howell, who is a Sales Representative with RE/Max Escarpment Realty Inc. Just recently Cory and Clinton brainstormed ideas and the November 24th fundraising event for the Oestriecher family became a reality.
"When Cory told me about the fundraiser, I jumped in right away to help him and his team out. The fundraiser is a night you sure don't want to miss out on and the event is for a wonderful cause," says Clinton. "The Oestriecher family needs the community's support in such a big way right now as they are going through a very difficult time. Now is the time for all of us to rally behind them and help them out; this is our time to rise to the occasion together and make a positive difference in their lives."
"So many of us are blessed to have our health, our families, our jobs and money, so it brought a tear to my eye when hearing the news involving Jeff and Carey-Ann," he says. "But I know as a community we will help put a smile on their faces and most of all give them new-found hope."
He adds, "Giving back to others is something near-and-dear to my heart," says Clinton. "We are stronger together and all of us helping the Oestriecher family will mean so much to them and help them through the struggles they are sadly going through. It's a sad story, but together we can help make their lives easier and more manageable."
Tickets for the Oestriecher Fundraiser can be purchased by contacting Cory Greenham at cory.greenham@scotiawealth.com
Also, for those who wish to support the cause, donations can also be made via GoFundMe: https://www.gofundme.com/oestriecher-family
For media interviews, please contact: Paul Fitzgerald, Publicist – 289.795.6176